Companions for the Journey 3
arguably,
the most important companion we have to befriend on the journey
(we do have to befriend companions?otherwise how can we share bread with each other nourish each other reflect with each other support each other)
the most important companion we have to befriend on the journey
is
our Self
Arguably,
the most difficult
the most irritating
the most selfish
the most sluggish
the most lazy
companion of all
is
our Self
And yet
the closest.
We would avoid these traits
in other companions.
They would not nourish us.
They would hold us back.
They would block our paths.
They would not be interesting.
And yet
what we take with us
is our Self
To avoid the negative traits
is to ask
to be tripped up
as they
will
be heard/felt/seen.
Perhaps this season
on which the world is embarking
this season of going slowly
can teach us to transform the heavy Self we carry
we might accept ourselves to such a degree
that
the most difficult becomes the most relaxed
the most irritating grows into the most beguiling
the most selfish changes into the most generous
the most sluggish turns into the most enlivened
the most lazy bursts into energy
And
we might grow to like this Self
who accompanies us
on the journey
Powered by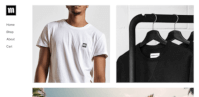 Create your own unique website with customizable templates.
Photos used under Creative Commons from RoxyHobbs, Orin Zebest